Inspiring Viewers to Become Doers.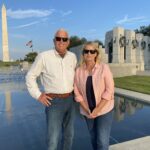 You have the power to help us
share
positive messages of goodness
. Your donation allows those messages 
to inspire more viewers to become doers
of goodness
in their own communities and towns. So much of today's television is negative, violent, and divisive please help Jann and Rodney silence those voices one story of goodness at a time. 
We are a 501(c)(3) organization and your tax-deductible gift will help us continue to tell stories of goodness that inspire us all to be the best version of ourselves!
You can sponsor Voice of Goodness across America today!
By Clicking on the Donate Button you can donate on-line with your credit card.
Or you can send a check to:
Voice of Goodness
1874 GA Hwy 32 East
Wray, GA 31798-3720
Would you like to transform your holiday shopping experience into an opportunity to support Small Town Big Deal through Voice of Goodness.  Rather than choosing to shop on Amazon, shop on Amazon Smile and Voice of Goodness will receive a small percentage of your purchase dollars! Follow the simple instructions at Amazon Smile to get started on the app or in your web browser!